The Spike Times
Merry Christmas

Volume VI Issue III Circulation 41+ December 1998

A Great Thanksgiving!
- James Marriott
I was fortunate enough to be able to spend Thanksgiving with Yvonne and her family. On the day prior Yvonne and I made a couple of the family famous coconut cakes at her parents house.
On Thanksgiving Day we rode with her parents to her father's bothers house and had a great Thanksgiving dinner. I had met most of
the relatives that were there prior. The food was great, and her family was great towards me. In the evening we went to her mother's sisters house, once again I had met many of the family members before, but there were a few more "new" ones here. We enjoyed dessert and good, fun conversations. Again, this part of the family treated me very well, I felt comfortable around everyone all day and enjoyed being part of such close families.
In this world of divorce it was great meeting and being inspired by couples who have been married so long. Yvonne's parents have been married for over 30 years, and her Aunt Pumpkin and her husband Lester have been married around 40 years! Many others there were also married for a great number of years.
For many of the past Thanksgivings I have had to work and missed dinner with everyone, and it has been a long time since I was able to fully enjoy the true "family tradition" of Thanksgiving. Thank you Yvonne and Mr. & Mrs. Smith for sharing this great day with me.




Merry Christmas.- Spike
I can remember being just a little guy waiting for Christmas to come. My little sister Jeanna and I would look through the Sears, Best, Toys R Us and Consumers (something) catalogs and mark the toys we would like. We would look through those for hours dreaming away.
On Christmas Eve we were allowed to open two gifts, our mom would sometimes prompt us on which ones we should open, so that we would not be disappointed wasting our picks on clothes. We would go to bed a bit early to allow Santa the chance to come in peace and let him do his things.
On Christmas morning we were forced to wait in our rooms until our step-dad Augie finished his coffee, and then the fun began. Jill and Jackie were older but they were still as excited as we were. Paper wrappings were everywhere, even Charlie the dog got into the mood (and he had his own gifts of course).
My excitement level has dropped over the years, but I still look forward to the Christmas Season. People seem a little friendlier as they get in the spirit and it rubs off on you and others. This year I have received the greatest gift of all, I have met the love of my life, Yvonne. (Pictured below)
I will not bother asking Santa for another gift this year, I am in debt to him for quite some time.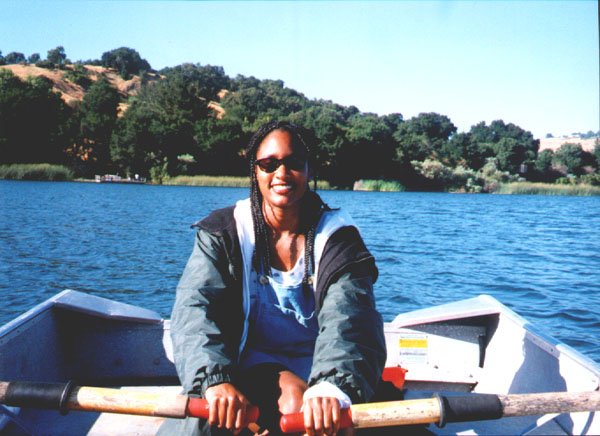 A Spike Update...
My roommate Jamie moved out in November, she got married and moved to Tracy. This posed a few problem for the rest of us. Jamie owned the washer/dryer, the microwave and the kitchen table. It took us a few weeks, but we are self-sufficient again, less a table.
Jamie also owned the printer, so I had to get a new one. I bought it online at Cyberian Outpost (www.outpost.com ) I saved over $40 doing so!
Pam's brother Johnny moved in and things are doing well here. Pam and Harold bought a table-tennis table (Ping-Pong) and we are having fun with it.
Jeff, Lee and I went to Hawaii in early September. It was not one of my better vacations, we'll leave it at that.
Mickey had Yvonne and I over for dinner a month or so ago. She and Melyssa are doing great. Melyssa is so big now. I will have newer pictures up on my site soon.
Yvonne and I went to the Exotic, Erotic Ball just before Halloween. Wow! Enough said.
I am still going to school for my computer networking certification, and it is going well.
Yvonne and I celebrated our six-month together, and we have known each other for over a year now. She has made me the happiest I have ever been in my life. Thanks!
I hope everyone has a Merry Christmas and a Happy New Year - Spike



Happy Birthday Mom!
-Joey
Mom, it has been three long years since you left us. Not a day goes by where I or my sisters do not think of you.
It is funny sometimes how I forget where you are. I get myself in a jam sometimes, especially when I am cooking and I think to myself, "oh, I'll call mom and ask her what that means." I have gone as far to pick up the phone.
Do you remember how you kept on me to meet a nice girl to fall in love with? Well I have, her name is Yvonne and you would love her. She treats me so good and she is the sweetest person.
Everyone is doing well, your grandchildren are getting so big, Matthew is so tall, taller then Jill and getting close to me. Michelle is doing great in her cheerleading, Derek is finding the latest in fashions and music and Jason, well he is still the little "Hairy" and mothers helper that he has always been. Amanda started school, and is doing great. She is into dance, gymnastics and much more.
You were elusive with your age, but I figure you would only be about 56 this year, or as you would say, 39!
People often say they are sorry for mentioning you when I tell them you have passed away, I tell them not to be. Yes I am sad that you are not with us is body, but that I am lucky to have had you for a mother for as long as I did, and that their mention of you makes me think of you, making me smile deep inside.
Sometimes I try to think of the bright side, like now I can talk to you whenever I want, I often do. I know you hear me and while I can't hear you answer me, I know what you would say. Well almost always, Mom, what does "to par an apple mean?"


Happy Birthday Mommy, Love Joey